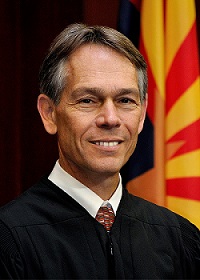 Growing older presents new opportunities as well as changes in health, lifestyle, family connections, and more. Whether you are experiencing these changes or you are caring for aging relatives, you are not alone. We prepared this site as a resource for people navigating the challenges and opportunities that come with aging or caregiving.
This site will help you plan ahead, know your options, and be aware of your rights. There are many laws, benefits, and special services available to help you stay in command of your daily living. Law for Seniors touches on some of the topics you may face and offers contact information for agencies and organizations that may be of assistance to you. This guide presents only general information. Laws, policies, and procedures frequently change. If you have a specific legal problem, you may want to consult an attorney.
-Chief Justice Scott Bales
As many as one in seven seniors nationwide experiences elder abuse - usually at the hands of a family member. In some cases, the senior winds up penniless. In others, the senior loses his or her home. And statistics suggest that abused seniors are three times more likely to die within the next decade than other seniors of the same age. Still, most elder abuse goes unreported. Your caregiver may be stealing from you, beating you or simply leaving you stranded in your own bed. You may be afraid of what will happen if you tell someone. But help is available. Turn your situation around before it gets worse.
We need your help!
Arizona Legal Needs Survey
The Legal Service Agencies of Arizona are seeking your input to increase their ability to meet the legal needs of Arizona's lower income residents. Please
complete this survey
to assist in improving legal need services for Arizona.